We Built This City (And so Much More): Kids Dream Big
by Catholic Charities – February 16, 2022
Is there anything more fun than building your own dream city out of Legos after school with your friends? How about celebrating Lunar New Year by making delicious spring rolls from scratch? The kids at Catholic Charities Maureen & Craig Sullivan Youth Center (M&CSYC) are having a blast learning and doing just that, and so much more.
"This group of kids is very tight-knit," says Program Director, Erica Nave. "For their Lego city, they even nominated their own mayor, created their own currency, and appointed themselves jobs," she says. "Their interests really guide the activities we do."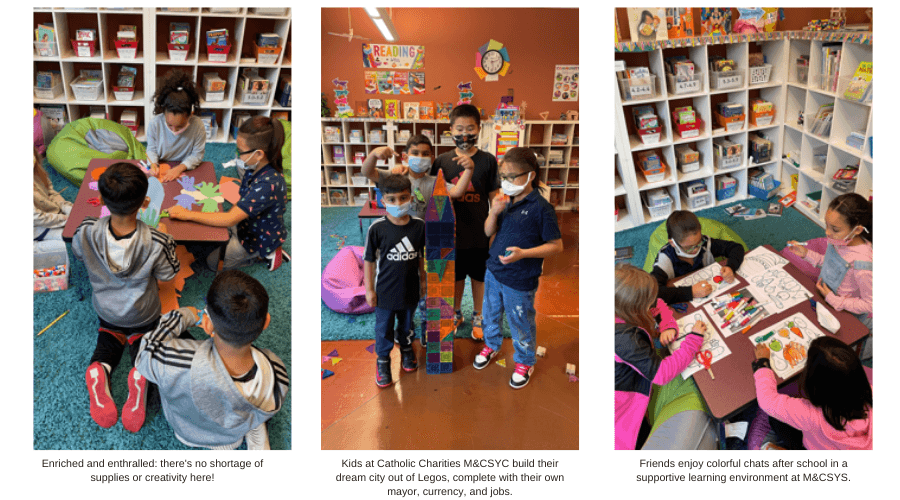 Other beloved activities are computer lab time, physical education, and a new culinary arts program where kids learn about nutrition hands-on. Upon arrival, kids also get a hot meal and an evening snack. The program is looking to hire teachers for a brand-new literacy program and science education program. These developments come at just the right time, when students who have struggled with distance learning can get support to fill in gaps in an individualized, one-on-one setting.
At Catholic Charities, we work hard to ensure every child has access to the resources they need to thrive, and that parents have someone to lean on for support. No matter the challenges past and ahead, we are always here, ready to serve those in need.
Children ages five to 12 from low-income neighborhoods attend the after-school program, which runs daily from 2:00 PM to 6:00 PM during the week and all-day during holidays. With the pandemic throwing in-person learning off the rails, these kinds of enrichment activities provide essential opportunities for social-emotional growth.