Thousands of Bay Area Homeless People Were Given Hotel Rooms During the Pandemic, Where Will They Go Next?
After three years of bouncing between shelters, relatives' couches, a tent and other places, Gillette Christa and her 16-month-old dog, Shepherd, had finally gotten into stable housing.
"It was like taking a load off," she said. "We were able to finally rest."
But now her future is uncertain as she waits to hear where she will go next.
Like some 22,300 people across California, Christa was placed in a hotel in San Francisco as part of a program called Project Roomkey – an effort to temporarily house seniors, and people who were medically vulnerable, to prevent the spread of COVID-19 during the pandemic.
When Gov. Gavin Newsom announced the program in April, the focus was on providing places for people experiencing homelessness to safely shelter in place during the pandemic. But, he also said it would be a jumping-off point for permanent housing.
"We're not just thinking short-term," he said during an April 3 press conference outside a motel in Sacramento. "We're also beginning to process an orientation of focus and energy around long-term supports, so that we can get people off the streets in a permanent way."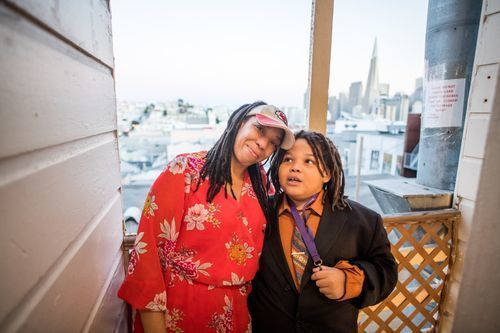 But data from seven Bay Area counties, which was analyzed by KQED, show that nearly 16% of the people who have already been discharged from the hotels have made it into permanent housing, or 345 people out of 2,196.
The remaining 84% have gone on to emergency shelters, transitional housing, friends or family, other hotels paid for with private funds, drug rehab facilities, jail, or to tents, cars and encampments. At least 15 people have died.
The data includes only people experiencing homelessness who stayed in hotels as part of a preventative measure to stop the spread of the coronavirus. It does not include hotel rooms set aside to isolate and quarantine people who had been exposed to the virus and whose stays were limited to 14 days.