Big Win for CCCYO
by Catholic Charities – May 27, 2022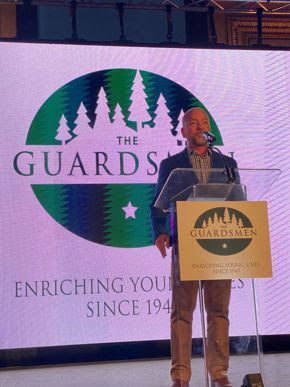 Robust Scholarship Opportunities for Youth Thanks to The Guardsmen
Congratulations to Catholic Charities CYO Camp for their recognition last week by our partners at The Guardsmen and the Giants Community Fund during their 34th Annual Celebrity Dinner and Sports Auction!
Rick Garcia, Director of Catholic Charities CYO Camp, was presented with a $66,000 check to be used for Summer Camp 2022 scholarships for vulnerable Bay Area youth.
For more than 60 years, Catholic Charities CYO Camp has partnered with The Guardsmen to provide vulnerable youth both a residential summer camp experience in the wilderness, often for the first time, and most importantly, the opportunity to develop self-confidence while making new friends and taking on new challenges.
Catholic Charities thanks The Guardsmen and over 300 attendees, including 30 Bay Area sports celebrities, for their generous contributions to serving Bay Area youth and connecting them to meaningful experiences in nature.