San Francisco Bay Aglow with the Faces of our Community
by Catholic Charities – October 22, 2021
Above picture: Paula Pardini (founder, director & president of the Caritas Creek Board), Jilma Meneses, (Catholic Charities CEO), Inna Sagan (educator and CYO Camp supporter), Cindy Cleary Janike (CYO Camp alumna and supporter), and Louis Reynaud, (Catholic Charities Board member and longtime champion of CYO Camp), revel in each other's company and the sunshine at Catholic Charities CYO Camp's 75th-anniversary!
As part of last weekend's Night Watch immersive art exhibition by artist Shimon Attie, Catholic Charities CEO, Jilma Meneses, participated in a panel discussion among other prominent members of social justice and artist communities. We are grateful to our partners, BOXBLUR, Catharine Clarke Gallery, Immersive Arts Alliance, and Minnesota Street Project for organizing this moving and thought-provoking event.
The panelists discussed diverse social justice movements in support of immigrants and refugees, the forces at play in their struggles, and the role of art as a tool for resistance, revolution, and healing.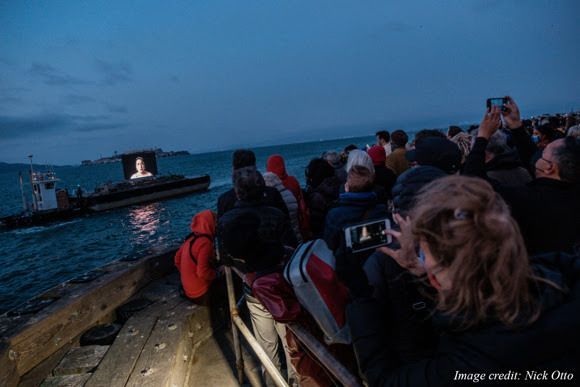 Night Watch, a 20-foot LCD screen mounted to a moving barge, portrays the faces of 12 refugees that received asylum in the United States after facing life-threatening persecution in their home countries. The barge traveled along the shoreline of the San Francisco Bay, where onlookers found themselves face-to-face with the very members of our community who are significantly overlooked and unsupported.
The quiet intimacy of onlookers exchanging gazes with the faces on the screen was all the more powerful against the majestic backdrop of the San Francisco Bay. Here, individuals on the screen perceived the audience as much as the other way around. And in subverting this traditional way of viewing art, unspoken questions silently emerged among the audience on the shoreline: who are we? Are many of us not also descendants of peoples from around the world who migrated to this country seeking a better life? Have we not received help from those who were here before us, and do we not in turn have a responsibility for seeing and defending one another today?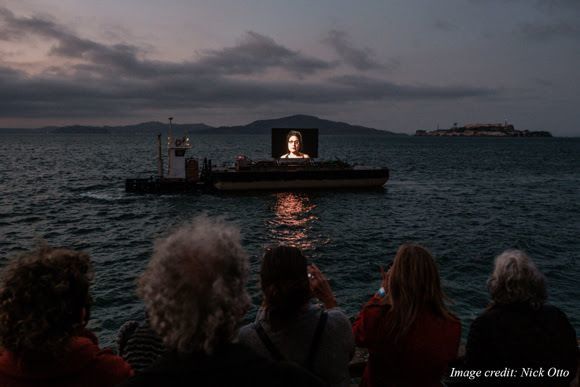 Catholic Charities is proud to serve and support our vibrant immigrant community through holistic legal and social support services.